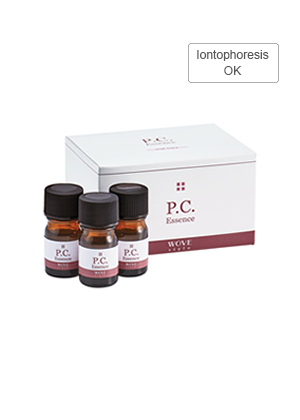 PC Essence
Pore Agent
Pore-introducing agent that leads to smooth and smooth skin
Contains a multi-pore formula that is a unique blend of long-acting vitamin C, centella asiatica extract, and glycylglycine. It approaches all pore problems (looseness, dryness, darkening, melanin) and leads to smooth skin with less noticeable pores.
Capacity: 5mL x 12
Loose pores Dry pores Blackhead pores Melanin pores
Features
The cause of all pore problems is [inflammation]. "Multi-pore formula", which is a unique blend of long-acting vitamin C, centella asiatica extract, and glycylglycine, which is an ingredient that approaches inflammation, solves all pore problems from the ground up and provides smooth and smooth skin.
"Chardonnay juice fermented extract" and "gentiana root extract" promote turnover and tighten loose pores with astringent effect.
"Highly penetrating collagen", "hyaluronic acid" and "glyceryl glucoside" have a high moisturizing effect and fill the skin with moisture from the inside, making dry pores plump.
"Papaya fruit extract" breaks down old keratin (protein) and eliminates dirt and darkening that clogs pores.
"Fermented rose honey" loosens old keratin and prevents melanin pores by suppressing pigmentation with a mild peeling effect.
"Hydractin" approaches cell activator (ATP) and promotes skin metabolism. Adjusts the water balance of the epidermis.
Main ingredients
Persistent Vitamin C, Tsubokusa Extract, Glycyrrhizin, Fermented Chardonnay Juice Extract, Gentian Root Extract, High Penetration Collagen, Hyaluronic Acid, Glyceryl Glucoside, Papaya Fruit Extract, Fermented Rose Honey, Hydractin
[without]
No alcohol (ethanol), artificial colors, synthetic fragrances, parabens
How to use
Use an electroporation/laser/microneedle/dermaroller introducer to introduce to the washed skin. You can use it even if you add it after introducing "TGF Essence".
Photo before and after use
Take an appropriate amount on dry hands and gently massage over your entire face. Rinse with water or lukewarm water thoroughly.