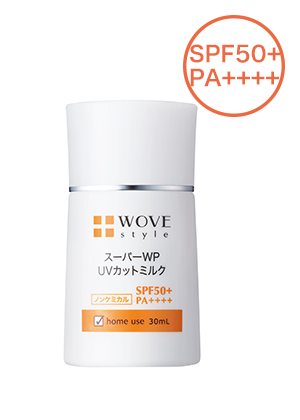 Super WP UV Cut Milk 50+
UV protection milk
Waterproof UV protect sunscreen milk. Gently protects your skin with anti-aging essences.
This sunscreen defends your skin againts harmful UV rays, dryness, and air pollution which are responsible for aging signs on your skin.
It delivers long-time thorough protection to the skin even under severe environments.
Capacity: 30mL
Dehydrated skin Air pollution Physical sunscreen Super waterproof
Features
Clears Japan's highest standard UV protection "SPF50 + PA ++++". Perfect UV protection for those who absolutely don't want to bake.
A non-chemical formulation (no UV absorbers used) that is gentle on the skin while having high UV protection. We are particular about the prescription design that can be used with peace of mind every day and does not burden unstable skin after treatment.
"Super waterproof" function is newly added. We have improved the formulation to be more resistant to sweat, water, and sebum than ever before. (200 minutes water resistance test completed)
In addition to resveratrol and ergothioneine, which have strong antioxidant effects, Scutellaria baicalensis extract and W hyaluronic acid, which have an air pollution barrier effect, are newly added. Prevents the adhesion of pollutants and prevents stains and wrinkles.
A luxurious combination of moisturizing ingredients such as high-penetration collagen, super hyaluronic acid, 3 types of ceramide, and Lipidure®. Keeps your skin dry all the time you apply it.
A texture that spreads well and fits comfortably on the skin. It is comfortable to use without a feeling of film, squeak, or stickiness. It can be used as a body or as a makeup base to naturally tone up the skin.
Main ingredients
High-penetration collagen, 3 types & Super hyaluronic acid, Ceramide, Lipidure®, Resveratrol, Ergothioneine, Scutellaria baicalensis extract, Artemia extract.
[without] alcohol (ethanol), synthetic coloring agent, synthetic perfume, ultraviolet absorber.
How to use
Please shake well before use in the morning, take an appropriate amount at the end of skin care, and spread it to the whole face evenly. Please wear it again after wiping the skin with the towel, if you want to fix it. Please use cleansing products for removal.
Recommended combination products