GF Moisture Lotion
Moisturizing lotion
High-permeability system moisturizes entire cells.
The 'Aqua Navigation Formula' improves the permeability and helps to penetrate active ingredients deep into every corner of skin cells, leaving the skin fresh, smooth, and young.
Capacity: 150mL
Dehydrate skin Sagging Skin roughness  Dullness
Features
A versatile water-retaining lotion that penetrates into dry and stiff skin.
Adopts a two-step "Aquanavigate prescription" that creates a path for moisture and spreads the moisturizing ingredients to every corner of the skin. The penetration-promoting ingredient "Aqua Navigator" temporarily loosens the barrier function of the skin, delivering moisturizing ingredients such as highly osmotic collagen to the depths of the skin and helping the skin's natural water retention.
Condensed advanced aging care ingredients such as "ultra-high pressure extraction placenta" which is the source of vitality, "EGF" and "plant stem cells" which are skin regeneration ingredients at the clinic level, and "resveratrol" which awakens the longevity gene of cells. It leads to youthful skin full of firmness and luster from cells.
Contains TGP2, a vitamin C derivative, to prevent stains and dullness, and to bring a bright and transparent feeling.
It becomes familiar as if it is inhaled, and the texture is instantly adjusted by moisturizing the cells. Any aging sign will be restored from the cellular level, leading to moisturized and youthful skin.
Detail information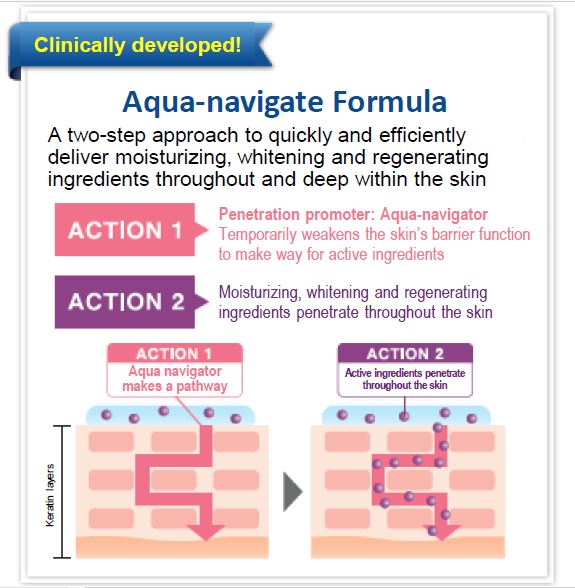 Main ingredients
EGF, Resveratrol, Plant stem cell (argan cell extract), Ultra-high-pressure extracted placenta, Aqua Navigator, Hyaluronic acid,
Highly penetrating collagen, Sodium PCA, Lactic acid, Vitamin C, TGP2.
[without] alcohol (ethanol), synthetic coloring agent, synthetic perfume, paraben
How to use
In the morning and evening, after cleansing face, take an appropriate amount in the palm of your hand, gently cover your face into the palm while applying the lotion.
Recommended combination products