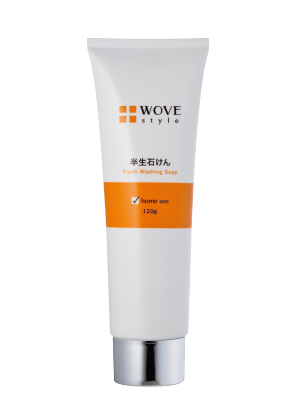 Fresh Soap
Soft paste soap
A rich lather with full of beauty essence leaves your skin moisturized and smooth.
90% of this soap consists of beauty essence, such as soap nuts and other fatty acids plants. The rich foam can gentle wash the skin without any stress on it.
Capacity: 120g
Sensitive skin Dullness Enlarged pores Dehydrated skin Adult pimples
Features
An epoch-making half-life type soap that combines the detergency of solid soap with the beauty effect of facial cleansing foam. Formulated from soap base using the "aged raw kneading method". It has been carefully aged and finished.
The soap base contains a well-balanced mixture of plant-derived fatty acids, including the 100% natural cleaning ingredient "Soap Nut Extract". Achieves both gentleness to the skin, quick foaming, and dense foaming.
Contains beauty ingredients such as hyaluronic acid, Lipidure®, and trehalose. Ultra-high-density foam containing 90% of beauty ingredients firmly adsorbs dirt in the back of pores and cleans it moisturized. After washing your face, it will not be taut and will lead to moisturized bare skin.
You can easily create rich and fine foam without using a foaming net. Foam does not fade even while washing your face, and it lasts for a long time. The foam is good, so you can rinse it quickly and gently wash it without damaging your age skin.
Main ingredients
Soap-nut oils, Hyaluronic acid, Lipidure®, Trehalose, Tocopherol.
[without] alcohol (ethanol), synthetic coloring agent, synthetic perfume, paraben
How to use
In the morning and evening, take an appropriate amount in the palm of your hand, whisk well while adding water of lukewarm water. Please wash gently to wrap the whole face with bubbles, and rinse thoroughly.
Recommended combination products