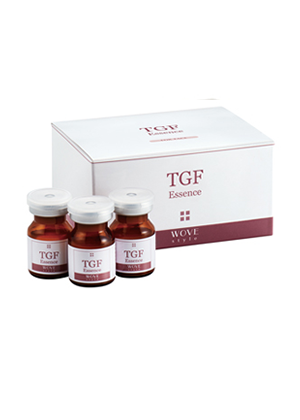 TGF Essence
Facial Introduction Agent
Contains 5GF (cell growth factor) inducer for speedy cell rejuvenation
Contains 5 GFs that regenerate cells beautifully and speedily, a GF enhancer that awakens the responsiveness of aged cells to GFs, and a vitamin cocktail that promotes the production of skin energy.
We provide basic and prompt care for all aging problems such as wrinkles, sagging, and dullness.
Capacity: 5mL x 12
Wrinkle Sagging Dullness Dry
Features
Five types of GF (EGF / FGF / IGF / HGF / KGF) turn on the skin cell regeneration / repair switch. At the same time as promoting reconstruction from the foundation as if the entire aged skin tissue was replaced, the damage resetting power of epidermal cells was strengthened. Improves wrinkles and sagging at the cellular level.
"Vitamin Cocktail" that injects energy into cells with weakened vitality and "GF Enhancer" that enhances the reaction to GF maximizes the regenerative power of the skin.
"Centella asiatica extract" native to Madagascar and "Golden chamomile extract" obtained from rare alpine plants quickly suppress micro-inflammation caused by active oxygen and stress, and fundamentally improve skin troubles and skin aging.
Hyaluronic acid, collagen, and elastin revitalize the skin from the depths of the skin.
It can also be used as lip and body care.
Main ingredients
EGF, FGF, IGF, HGF, KGF, Vitamin C, Vitamin A, Vitamin E, Vitamin B6, Coenzyme Q10, α-lipoic acid, GF enhancer, Tsuboxa extract, Golden chamomile extract, Super hyaluronic acid, Penetrating collagen. 
* The following ingredients Is not used.
Alcohol (ethanol), synthetic colorants, synthetic fragrances
How to use
Use an Eposkin/Laser/Microneedle/Dermaroller to introduce to the washed skin.
Recommended combination products