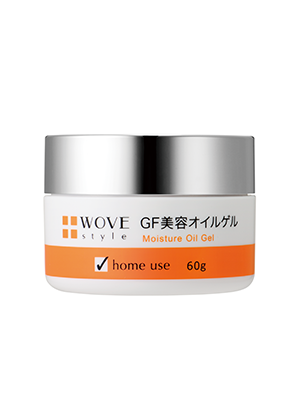 GF Moisture Oil Gel
Beauty Oil Gel
Keeps your skin hydrated 24 hours a day and prevents dryness.This beauty oil gel fills your skin with continual moisture
This oil gel moisturizes your skin and repairs wrinkles and dehydration due to age. It makes the skin young, soft, and radiant from the cells
Capacity: 60g
Wrinkles Dehydration Sagging
Features
Regains certain moisture for mature skin suffering from dry wrinkles and deflation due to aging.
Contains aging care ingredients such as "ultra-high pressure extraction placenta" which is the source of vitality, "EGF" and "plant stem cells" which are skin regeneration ingredients at the clinic level, and "resveratrol" which awakens the longevity gene of cells. Contains 99% of 52 carefully selected beauty ingredients to create youthful skin from cells.
A new type of oil gel that has achieved amazing moisturizing power with a unique "water oil manufacturing method" consisting of 3 types of hyaluronic acid, ceramide complex, moist barrier force, etc. While maintaining the high moisturizing and protective power of oil, only the negative aspects such as stickiness and dripping are eliminated. It enables 24-hour moisturization that does not dry for a moment.
Main ingredients
EGF, Resveratrol, Plant stem cell (argan cell extract, apple extract), Ultra-high-pressure extracted placenta, 3 types of Hyaluronic acid, Ceramide comples, High penetrating collagen.
[without] alcohol (ethanol), synthetic coloring agent, synthetic perfume
How to use
In the morning and evening, after washing face or using lotion/beauty lotion, apply a proper amount to the whole face please. Especially, please overlay the part with dry feeling.
Recommended combination products