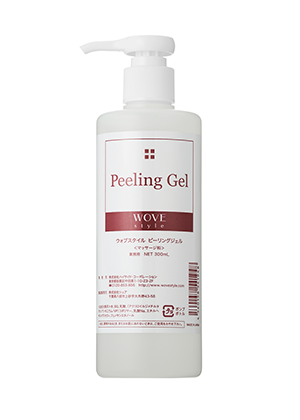 Peeling Gel
Peeling Agent
Skin-friendly lactic acid peeling that enhances the penetration and effect of the treatment.
It loosens the keratin of the skin with disturbed turnover and enhances the penetration and effect of the subsequent treatment. It also promotes improvement of skin problems.
Capacity: 300mL
Dullness Pores Adult acne No downtime
Features
A professional prescription that is easy to use even for beginners, dispelling the images of "scary" and "difficult" that tend to be held in peeling. Achieves a high peeling effect even though it is hypoallergenic.
A safe and secure lactic acid base that is also used in the medical field, it does not burden the skin and removes only unnecessary old keratin.
By loosening the keratin of the skin, the penetration rate by the subsequent treatment is greatly increased. With just one treatment, you can experience one-tone bright skin and a smooth feel.
By continuing to do so, it will improve the disorder of turnover, which is the root of all aging and skin troubles (acne, pore opening, spots, wrinkles).
It is gentle on the skin and can be used regardless of skin type, age, gender, or season.
With 3 easy steps of "painting", "wiping" and "neutralization", even beginners can use it with confidence.
Main ingredients
Lactic acid, Na Lactic acid
[without] Mineral oil, alcohol (ethanol), synthetic colorants, synthetic fragrances, parabens
How to use
After washing your face, apply with a brush to the entire face in order from the thickest part of the skin. Leave it for 1 to 3 minutes (excluding around the eyes and under the nose) and gently wipe it off with a cold sponge.
* Due to the characteristics of the product, you may smell it, but there is no problem with the quality.
Photo before and after use
Take an appropriate amount on dry hands and gently massage over your entire face. Rinse with water or lukewarm water thoroughly.