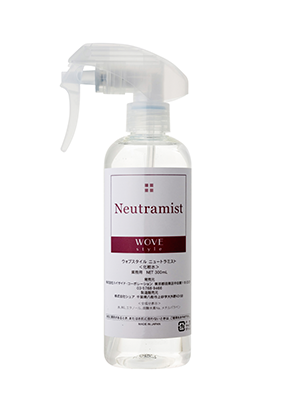 Neutramist
Peeling Neutralizer
Neutralizes every detail of the skin and soothes the skin after peeling.
As it is a spray type, it can be sprayed evenly and can neutralize every detail of the skin. Effectively soothes acidic skin after peeling.
Capacity: 300mL
Features
It is a neutralizing agent that restores the skin that has become acidic with the lactic acid of the peeling gel to weak acidity and quickly calms it down.
It is a spray type that can be sprayed evenly, and can be easily neutralized by simply spraying it over the tissue.
Detail information
Please use with peeling gel. You can increase the effect and unit price just by adding it to the current treatment menu.
Main ingredients
Na hydrogen carbonate
[without] Mineral oil, synthetic colorants, synthetic fragrances
How to use
After using the peeling gel, place a tissue on your face and spray an appropriate amount on the entire face to spread it.
Recommended combination products